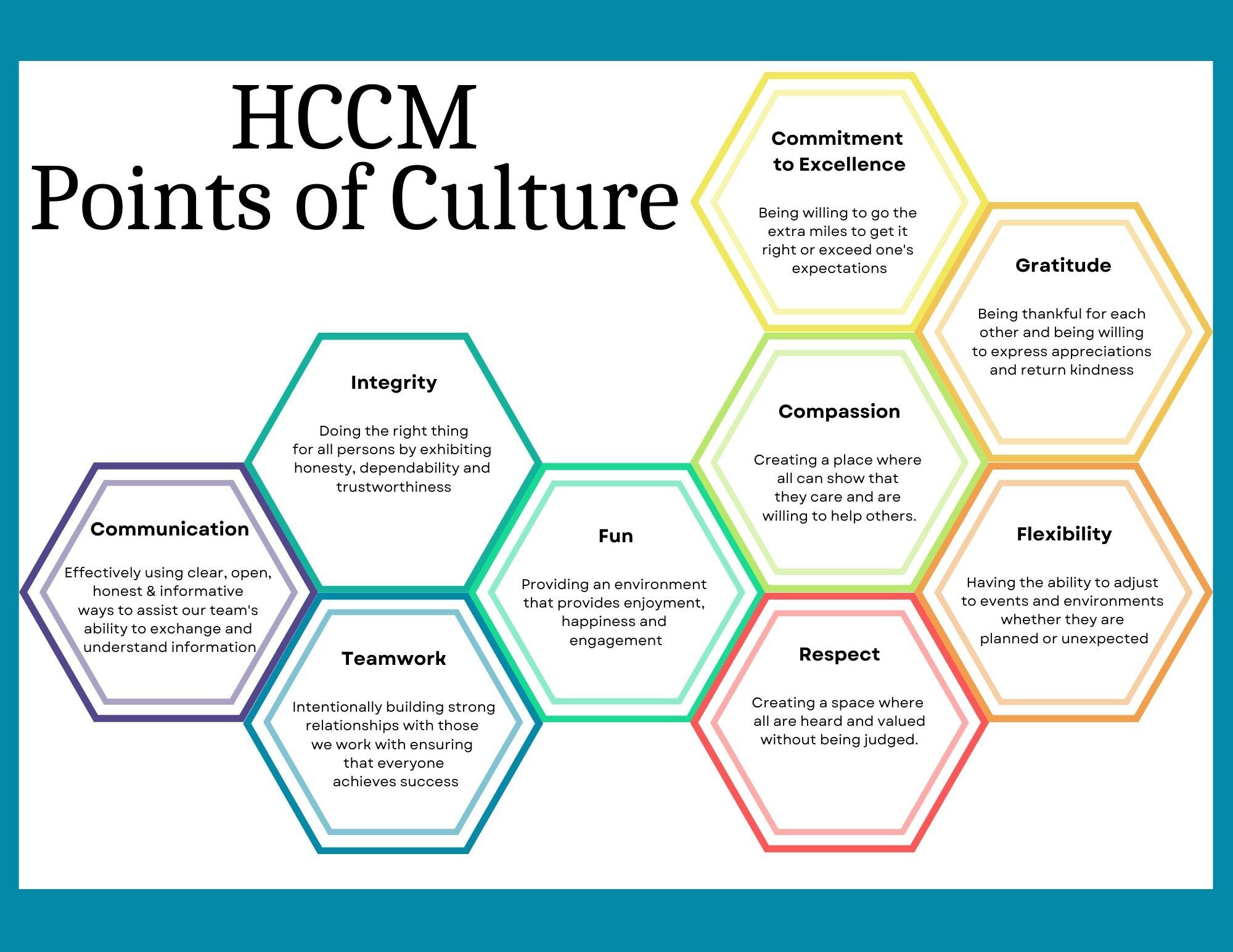 Eight years ago when I began my journey with Hill Country Community Ministries I had come from corporate America. I had worked for a Fortune 500 company where everything was "shiny and new." It was all about the numbers and you were only as good as your previous month's goals. However, the BEST gift I could have ever received from corporate America was the training. They poured into me, invested in me. And now I get to use all that training, my gifts, and my talents to help others.
When I walked into our tiny, run-down facility on Lacy Drive it was an entirely new feeling. HCCM had 3 1/2 employees and maybe 80 or so volunteers. Wait… what?? 80 or so people came to HCCM every month to "work" and not get paid? The FEELING of being at HCCM felt GOOD! However, we were still missing something. We were missing pictures on the walls. We were missing celebrations like "Volunteer of the Month," volunteer appreciation events, and celebrating special occasions with our
tiny staff. There were no updates to discuss all of the wonderful things the volunteers have been doing, and how many families had been helped by their work. And they had no idea what our amazing team was doing out in the community. I wanted to create a culture that felt warm, welcoming, and inviting. I wanted us to have FUN all the while we deal with people facing crisis every day.
Eight years ago, with no money, and no budget, I created the Sunshine Award to CELEBRATE our volunteers each month who brighten our day. For many years, I did this out of my own money. Why??? Because I believe in it!!! Life happens. And I believe EVERYONE has a story, a struggle, who may have or is currently going through something hard. YET…. Our volunteers STILL show up, serve, and SHINE!!!
As our organization has grown, we now have 11 full-time and 4 part-time employees. We have 185 core volunteers a month who serve as food pick up, unload the food truck (at 7 AM Monday mornings), food pantry, community cupboard, thrift store, case management, Fresh Food for All, administration and so much more. 185 show up every month to HELP our friends, family, and neighbors. I am always AMAZED that at least 15-20 volunteers show up several times a week at our food pantry and our thrift store.
They show up and SERVE because they want to and because they LOVE it. Today, we continue to award our Sunshine recipients each month. Every quarter we meet with our volunteers to discuss "What's Happening." If you are fortunate enough to serve in the thrift store, those quarterly meetings have been filled with potlucks and they get to share their favorite treats with others. In the past couple of years, we have added more events to try and CELEBRATE all of the hard work EVERYONE does. We finally had our first volunteer appreciation dinner a year and a half ago. This is something that both Kandy and I have been hoping for and wanting since day one I started. We have had a couple of picnics in the past couple of years, where our staff and some of our board members have cooked for all. Last year, there was a white elephant exchange during Christmas. And though I had to miss it, I heard there was a TON of food and LOTS of laughs. Watch your emails for this year's event.
And have you gotten your FREE t-shirt? We have a gift for those who have served 100+ hours just this past year… I think we have already given out 50+ t-shirts…. WOW!!! Congratulations!!!
All the while we want to celebrate our volunteers, we also want to celebrate our employees. MOST of our employees work 35-40+ hours a week, I wanted to do something for them as it is not easy working with thousands of people each month who are stressed, strained, and in crisis. And though I absolutely know we cannot do what we do without our volunteers, we definitely could not do it without our staff either. HCCM is a TEAM…. A TEAM where every member, every player, EVERY PERSON is an important part of our success.
I have heard since almost the day I started, we are drinking from a fire hose. And most days, it sure does feel like it. We have had A LOT of bumps and bruises along the way, especially the past 18 months when the food pantry and the thrift store have both gone through A LOT of staffing changes. It has been extremely stressful, and uncomfortable and it has not always been fun. We know this. I know this. I have apologized and THANKED people soooo many times who have stuck with us. And I am
ever so grateful for the culture we are trying to create and maintain as we tackle these unknown and challenging times.
Hill Country Community Ministries Mission is this: Driven by grace through faith, Hill Country Community Ministries coordinates local involvement, providing essential goods and services to families in need or those facing a crisis. With compassion and care, we affirm dignity through the provision of food, clothing, and advocacy for our community, while being good stewards of the resources entrusted to us. Our goal is to break the grip of hardship, hunger, and hopelessness, by improving the health and well-being of our neighbors.
And we have created a culture for our staff and volunteers (see attached).
We are and will always be ever-changing. And I am ever so grateful I get to work with and serve with ALL of you!!! Being here now for 8 years, the longest job I have ever held, shows me that we are on the right track!